Rolling Stone's 500 Greatest Songs Come Alive
by The Audio Beat | September 8, 2010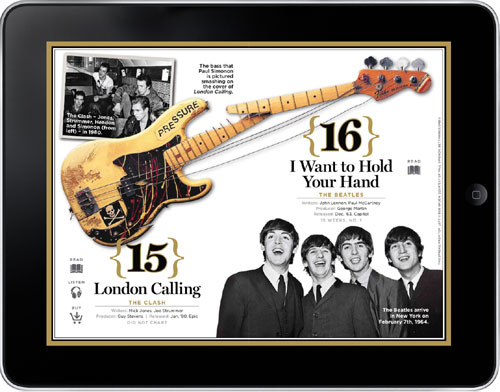 hile using a computer as a source of digital music is a dominant uniting of art and technology today, consider Zinio's new interactive release of Rolling Stone's 500 Greatest Songs of All Time. Readers can find out about the music, then sample the songs and purchase them -- all from their iPads or computers. "Our 500 Greatest Songs of All Time is the ultimate playlist for any music fan," stated Rolling Stone Executive Editor Jason Fine. "With Zinio, you can listen to the songs while you read, giving our audience an exciting way to experience the list."
Zinio's free app for iPad is available from the App Store, extending the pay-once-read-anywhere platform, an approach that offers the benefit of paying once for a magazine subscription or single issue, then accessing that publication across platforms and devices such as iPad, iPhone, and iPod touch, as well as Windows, Mac and Linux PCs. New mobile platforms are coming soon.
To purchase the interactive version of Rolling Stone's 500 Greatest Songs of All Time, visit the Zinio website or the featured section in Zinio iPad app.