Speaker Research and Setup Via iOS Device
by The Audio Beat | March 29, 2012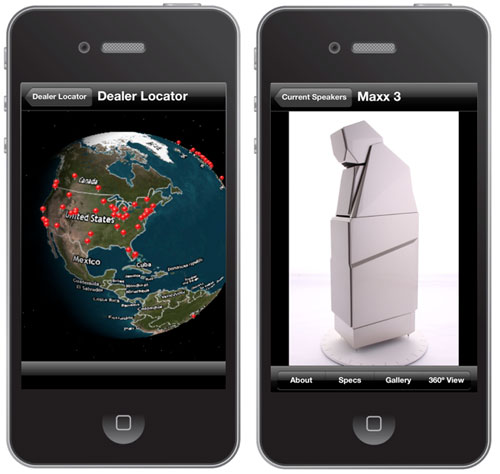 vailable from iTunes or the Apple App Store for iPhone, iPad, or iPod Touch, Wilson Audio's Application Suite collects utilities that will help customers of Wilson Audio speakers choose color combinations and set up their speakers optimally.
Among the Application Suite's features are interactive 360-degree views of Wilson speaker models, an "Imagine" feature that allows in-room viewing of any current Wilson speaker, color samples to aid in choosing paint and grille combinations, a head-alignment calculator for proper module position, detailed product information and specifications for all current products, photo galleries, access to all current and retired product manuals, access to resistor values for all current and retired products, a "Dealer Locator," and links to all of Wilson Audio's online assets.
You need to have an iTunes account to download the Wilson Audio Application Suite, which is free. Alternately, you can scan the QR Code provided below with a QR Code reader on your iOS device and you will directed to the Wilson Audio Application Suite at the Apple App Store.