William Zane Johnson, 1926-2011
by The Audio Beat | December 14, 2011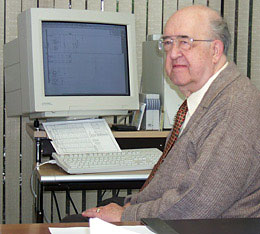 illiam Z. Johnson, who founded Audio Research in 1970 and ran the company for 38 years, passed away on December 10. He was 85. A true legend in high-end audio, he championed the use of vacuum tubes at a time when solid-state devices were becoming increasingly prevalent, using tubes as a foundation for his best-known products, which included the SP-10 and SP-11 full-function preamps, the Classic series of power amplifiers, and the Reference series of electronics.
A memorial service will be held Sunday, December 18 at 2:30 PM at Oxboro Evangelical Free Church, 9431 Nicollet Ave. So., Bloomington MN 55420. Friends and family may call after 1:00 PM. Memorial gifts and condolences may be sent to Mrs. William Johnson at Audio Research Corporation, 3900 Annapolis Lane North, Plymouth MN 55447-5447. Memorial gifts are preferred. Please direct your memorial to either Northwestern College or Oxboro Evangelical Free Church.
A memorial reception for industry friends, retailers and distributors will be held later on, with date, time and location to be announced prior to the upcoming Consumer Electronics Show.