The Scout Prime: VPI's Latest Mid-Priced Turntable
by The Audio Beat | September 13, 2014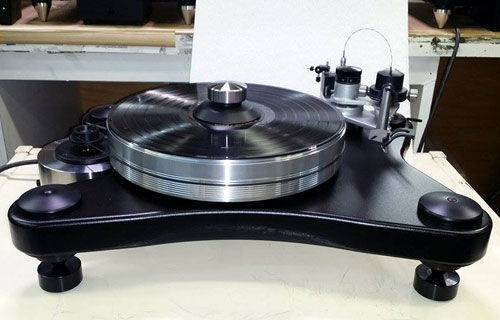 PI's Scout Prime ($3500 expected price) will debut at the Rocky Mountain Audio Fest next month. It is an extension/evolution of existing VPI products and marks Mat Weisfeld's first solo flight as a designer. In essence it is a beefed-up Scout chassis with the footprint of a Classic 3, allowing it to accept a 10" tonearm. The waisted shape, with its non-parallel sides, is reminiscent of (although more rounded than) the VPI Aries or HR-X, as is the cylindrical motor housing. The plinth sits on four adjustable feet of all-new design and appearance, replacing the "upside-down flowerpots" that have been a VPI fixture since the early TNTs, while the 2"-thick aluminum platter is shared with the Scout 2 and various Classic models.
But the big news concerns the tonearm. VPI wanted to offer an affordable 'table that included its 3D tonearm as standard. Unexpected levels of demand for the 3D armtops has increased order levels to the point where economies of scale start to kick in, while accumulated experience has also helped to reduce costs, allowing the Scout Prime to come fitted with a 10" JMW 3D tonearm, complete with VTA adjustment on the fly, even at the 'table's sub-$4000 price. There's even a Scout Prime Complete package that adds an SDS to the 'table, with a target price of $4500.
With proven plinth, platter/bearing and motor components and a state-of-the-art tonearm, performance of the Scout Prime looks seriously promising.