Get Your Classic Direct-Drive Turntables Here
by The Audio Beat | October 25, 2010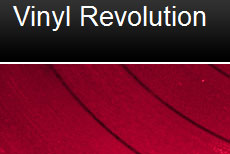 ndustry veteran Richard Colburn has worked for AudioQuest, KEF, Mirage, Energy, Bryston and PMC. His latest venture is Vinyl Revolution (www.vinyl-revolution.com), which offers "plug-and-play solutions for vinyl lovers seeking a no-nonsense and economical approach to high-quality vinyl playback." Vinyl Revolution refurbishes and updates "the overbuilt and over-engineered direct-drive turntables from the '70s and early '80s" -- turntables from Sansui, Denon, Technics, Sony, Yamaha, and Kenwood, among others. "I've nothing against belt drives," Colburn says. "It's just that I have a certain admiration for rock-steady direct-drive models."
Candidates for makeover are chosen based on their engineering credentials and overall condition. Each 'table is thoroughly cleaned before any tweaks or updates are applied. Damping material is then added to the chassis and platter. The outdated rubber mat is replaced, as are the head shell, cartridge leads, and connectors as needed. In some cases, the tonearm is also replaced, and the turntable may be refinished or repainted. Vinyl Revolution uses parts from Sumiko, Jelco, TTWeights and other makers. As a final touch, each turntable gets a heavy record clamp and a brand-new cartridge that "exceeds stock performance parameters."
Vinyl Revolution's current stock of refurbished turntables varies in price from $595 to $1350, with a concentration on 'tables that, once finished, cost less than $1500 complete. Colburn says, "The under-$1500 turntable market is populated by spindly weaklings.... It's your money, [so] spend it wisely and go heavy."