Vincent Phono Stage Belies its Budget Price
by The Audio Beat | April 15, 2010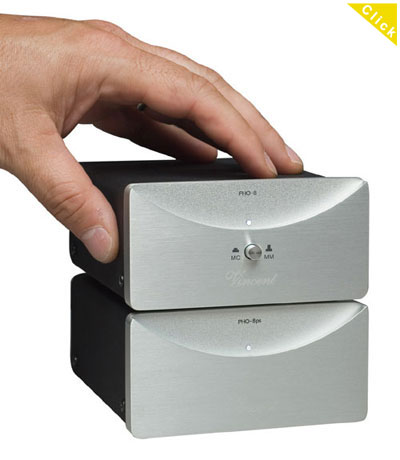 he Vincent Audio PHO-8 phono stage ($399.95) has the physical configuration, high-quality passive parts and output capabilities of much more costly competing products. It consists of two small chassis -- the phono section and separate DC power supply -- and offers up to 60dB of gain without use of a step-up transformer, enough to accommodate a low-output moving-coil cartridge. It's possible to bypass the highest gain stage, in which case the PHO-8 supplies 40dB of gain, enough for high-output moving-coil and moving-magnet cartridges.
The phono stage is said to use only the highest-quality parts throughout in order to achieve "extremely low-noise operation." The low-gain moving-magnet section delivers a greater-than-84dB signal-to-noise ratio, while the moving-coil section has a greater-than-71dB ratio, with total harmonic distortion of less than 0.02%. The phono-stage chassis has two RCA inputs and a ground connection, and two RCA outputs. A two-way front panel switch is used to select between gain levels. Input impedance is fixed at 47k ohms for moving magnet, 100 ohms for moving coil.
The PHO-8's power supply features a large transformer, large filter capacitors, and a voltage regulator that aims at eliminating power-line ripples. Filtered DC power is delivered to the phono stage over a shielded cable with a five-pin DIN plug. An IEC power-cord receptacle is included. The PHO-8's power consumption is just 10 watts, so leaving it on for best sound won't drive up one's power bill.
The PHO-8 is available in black or silver finish.