New Tonearm from TW-Acustic is a Joint Effort
by The Audio Beat | December 14, 2009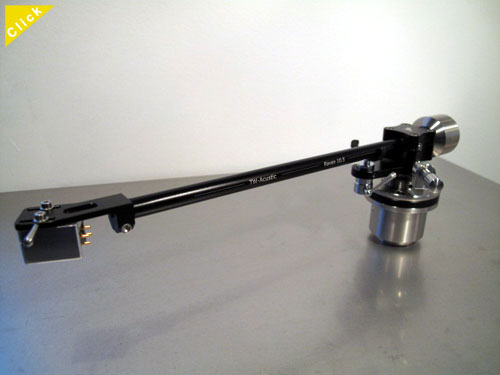 ther than a keen interest in geometry, what possesses someone to design and manufacture a tonearm, one of the audio world's most esoteric and unheralded products?
For Thomas Woschnick, the namesake of TW-Acustic, his line of turntables, priced from $4000 to $40,000, certainly provided some of the impetus. The new Raven 10.5 tonearm ($5500) was created in collaboration with Michael Wiedermann, a German civil engineer who "for several years has applied himself to the science of tonearm construction." The two men had the stated goal of creating a tonearm "that truly reflects the same philosophy as TW-Acustic turntables: simplicity and user-friendliness."
A straight, pivoted design, the Raven 10.5 is constructed primarily from a special aluminum alloy that provides the needed stiffness and torsional strength. The 'arm's bearings are precisely adjusted during production in order to eliminate the so-called "stick-and-slip effect" -- alternating sticking and sliding with a corresponding change in the force of friction. The Raven 10.5's effective mass is approximately 14 grams, and the inclusion of two different polished stainless-steel counterweights allows cartridges weighing between 5 and 20 grams to be used.
Because of its three-hole mounting flange, the Raven 10.5 can easily be mounted on turntables other than those from TW-Acustic. The Raven 10.5's headshell is not detachable, but it nonetheless allows for azimuth correction. The integral copper tonearm cable is a single run of wire from phono plugs to the cartridge-mounting connectors. VTA is adjusted via a special VTA adjuster taken from the TW-Acustic Black Night turntable.