"Resonance-Absorbing" Cabinet Material for New Tidal Speaker
by The Audio Beat | April 24, 2012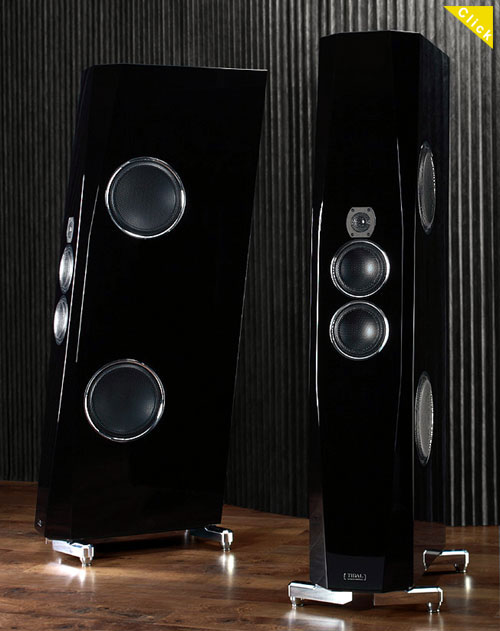 hile the new Tidal Agoria ($89,000 per pair) resembles both the company's Contriva Diacera SE and Sunray, it uses a material for its cabinet that neither speaker does. That material, called Tiralit, replaces the HD-MDF used for other Tidal speakers. It is a composite of several organic and polymeric layers compressed under great pressure and bonded together with various glues. Tidal calls it "an extremely hard and yet very resonance-absorbing material."
Like the Sunray, the Agoria uses Tidal's CIC bass-driver configuration to extend and align the low frequencies within the listening space. Another holdover from pervious Tidal speakers is the multi-adjustment Varioterminal, which allows tailoring of the bass to the room. The speaker's tweeter can also be adjusted to produce hard, medium, soft or no reflection.
The Agoria uses a 1.2" diamond-dome tweeter with a decoupled metal-alloy housing, two 7" black-coated ceramic midrange drivers, two 11" sandwich-compound woofers, and three 11" sub-bass radiators. All drivers are from Accuton. Hand-polished piano-black lacquer is the standard finish, with various lacquered veneers available as options. Each Agoria measures 66 1/2"H x 12 1/4"W x 23 5/8"D and weighs 450 pounds.
According to Jörn Janczak, the designer of all Tidal speakers, Tiralit produces "almost no cabinet sound. . . . Our well-braced MDF cabinets were already in practice pretty quiet, but [a cabinet made from] Tiralit is dead quiet." He concludes, "The resolution we have with the Agoria is almost spooky."