TEAC's New "Reference" for Affordable, Feature-Rich Audio
by The Audio Beat | October 14, 2009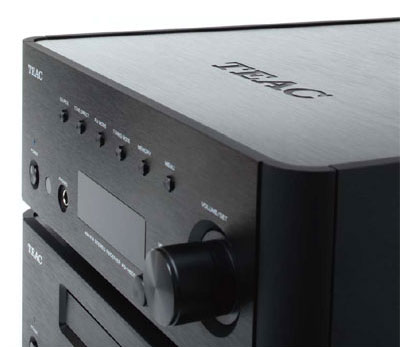 mong the most interesting products we saw at the recent Rocky Mountain Audio Fest were those from TEAC, whose new Reference series bridges the gap between the Japanese electronics giant's mainstream lines and its Esoteric division, which pushes at the state of the audio art. While the products in the Reference line have remarkable build quality and design features for their prices, what's most interesting about them is that two of the receivers, the CR-H500NT ($799) and the AG-H380 ($449), have an "iPod Digital Audio Input," as TEAC calls it. This allows both units to play music from an iPod, but in digital format, not analog. The receivers convert the digital signal to analog with Burr-Brown DACs. Thus, these two receivers function like the Wadia 170iTransport, the first product to extract digital data from the iPod, but they don't require another component to power the speakers, let alone control volume and input switching.

The features don't stop there. Both receivers offer multiple analog inputs, including one for connection to a turntable with a moving-magnet cartridge. Both have subwoofer outputs and headphone jacks. Power output for both is 40Wpc.

The difference between them other than the price? The AG-H380 has an AM/FM tuner, while the more expensive CR-H500NT adds CD playback and wireless capabilities for streaming Internet radio.

TEAC's Reference line includes other receivers, a CD player, a receiver/DVD player, and three speakers, all engineered to levels that belie their prices. We heard these products at the RMAF, and they sounded meaty and suave -- like so many pricier components on demonstration. We look forward to pushing their capabilities in our systems.