Simple, All-Out Preamp from Robert Koda
by The Audio Beat | July 14, 2011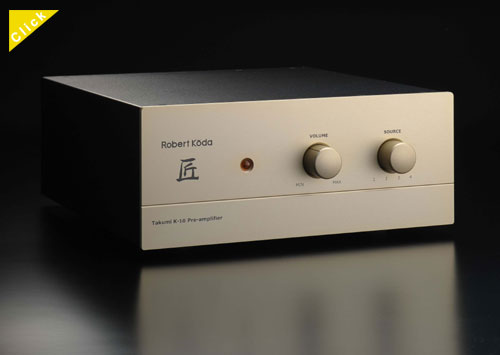 voiding "unnecessary complication," the Robert Koda Takumi K-10 preamp ($31,000), the mate to the well-regarded Takumi K-70 amplifier, builds on the Japanese traditions of simplicity and elegance. It is the product of the company's focus on new circuit concepts, embracing both tube and transistor technologies: "Many concepts showed great promise on paper and on the test bench, but ultimately disappointed during our extensive listening tests." This experimentation led to the K-10's ITC (Inverted Transconductance Coupler) solid-state circuit, "a unique arrangement of semiconductors" that is said to deliver "total freedom from the sound of the power supply." It uses a total of ten transistors and no ICs, providing 6dB of gain. "All manner of relays, complex support circuitry and sound-destroying printed circuit-board tracks have been eschewed entirely."
The K-10's attenuator uses "exotic resistors solely created for sound reproduction." These feature a special carbon formulation and thick gold-over-oxygen-free-copper leads. Source selection is handled by a rotary switch "built specifically for the most demanding of audio applications."
Special attention was paid to the K-10's chassis, an all-copper structure that surrounds and shields all components. Especially sensitive parts within the ITC gain stage are double encapsulated, comprising a custom mu-metal capsule within a separate copper shell. The power supply is housed in its own "magnetic vault" made of 2mm-thick soft iron plate.
The K-10's circuit is fully balanced, but the preamp provides both single-ended and balanced inputs and outputs that are reportedly "successfully engineered to deliver [the performance of] both at full measure."