Things That Shouldn't Make a Difference: The Audio Beat's Seminars at RMAF
by The Audio Beat | September 23, 2014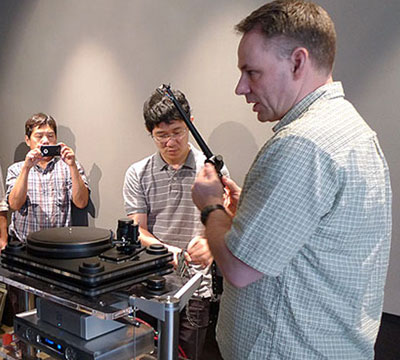 t's that time of year again -- the time when we get to stand in front of a room full of people and play them stuff. It's an opportunity for readers to assess for themselves some of the equipment that we've reviewed and some of the things we've been writing about. It's also a chance for you to "calibrate" us and the way that we describe things, as well as a reality check for us as we try to demonstrate them.
This year The Audio Beat will be running two different seminars, both concerned with audio minutiae -- things that many people will tell you don't (or can't) make an audible difference.
Cartridge Optimization for Musical Performance
Roy Gregory (with the aid of Stirling Trayle) will be demonstrating how to take cartridge setup beyond the basics, showing how each aspect of adjustment impacts the sound you hear. He'll be investigating different geometries as well as using your ears to optimize VTF, SRA/VTA and azimuth -- allowing you to take tuning beyond simple measurement and into the realm of musical performance.
Are All Discs Created Equal?
Marc Mickelson will be asking you to compare and rate different versions of the same recording, all on digital disc. Some of these comparisons will involve SACD as well as CD, while others will simply consist of different CD versions of the same recording. We'll be compiling the scores and publishing them as part of our RMAF coverage, and we'll provide details of the exact discs you hear and in which order.
Each seminar will be repeated, normally twice a day, in Tower room 9022 and seating will be on a first come, first served basis. The schedule and timings will be on the door of the room as well as in the RMAF show guide and on the show website (under the Seminars tab). We are planning to have 14 seats (although that will be confirmed on the door) plus some standing room, so just count how many people are standing in line and you'll know whether or not you will get a seat.
We look forward to seeing you in Denver.