New "Three"-Model Turntable from Rega
by The Audio Beat | May 20, 2016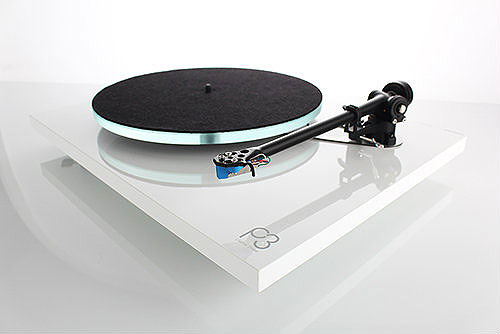 wo years in development and using only two components from the RP3 model it replaces, Rega's new Planar 3 ($1145 with Rega Elys 2 cartridge, $945 without cartridge) is touted as "the biggest re-design of the iconic 'three' model ever seen."
The improvements begin with the new RB330 tonearm, which was designed using the latest 3D CAD and CAM applications. It features a new bearing housing that ensures "almost friction-free movement" and "intelligent redistribution" of mass to ensure that the RB330 will exhibit fewer points of resonance. In addition to being included with the Planar 3, the RB330 will be sold separately for $595.
The Planar 3's acrylic, laminated plinth uses a pair of 3mm phenolic bottom braces that are thicker; these, along with a new metalized-skin phenolic top brace, make for a stiffer plinth. The plinth is also more attractive and comes in two high-gloss finishes: black and white.
The Planar 3's brass main-hub central bearing has been redesigned, reducing stress on the bearing itself. The redesigned 12mm sub-platter, with new float glass 'Optiwhite' polished rim, increases rotational accuracy, and improved footers increase stability and reduce vibration transfer. Finally, the Planar 3 uses an improved motor-control PC board with integration for Rega's separately sold TT-PSU for electronic speed change, lower motor noise and increased speed stability.