Pro-Ject's Debut Carbon: Low Cost and High-End Features
by The Audio Beat | March 19, 2012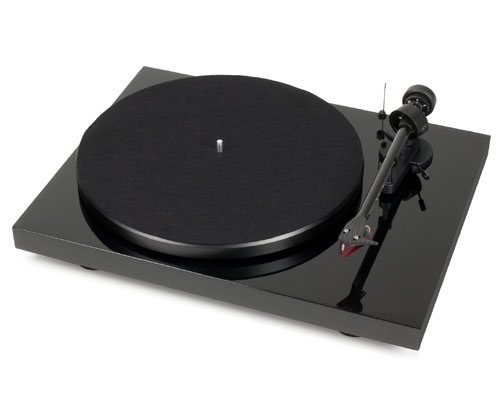 ro-Ject's Debut turntable, which, according to the company, sold in the "several hundred thousand[s]. . .in different versions and colours," set a high standard for budget-priced analog playback. With its new Debut Carbon ($399), Pro-Ject has seemingly topped itself, producing once again a turntable whose look is basic but whose design promises high performance.
The most obvious upgrade, and the one from which the turntable gets half of its name, is the completely carbon-fiber tonearm, which increases stiffness while decreasing unwanted resonances, making for "a higher-fidelity presentation of your treasured recordings." Mounted on the tonearm is an Ortofon 2M Red cartridge, a true budget-priced high-end reference point.
The Debut Carbon has a resonance-reducing MDF plinth and a heavier 300mm-diameter metal platter, which boasts "smoother rotation and lower wow and flutter." The platter and plinth assembly sit on four-point O-ring feet designed for energy absorption, and the plinth-mounted motor is isolated by a new Sorbothane-based suspension, "keeping unwanted noise and vibration to a bare minimum." Connection is via chassis-mounted RCA jacks.
The Debut Carbon is available in seven high-gloss colors: black, red, green, blue, yellow, silver and white. A felt record mat and full-sized hinged dustcover are also part of the package.