Pro-Ject Celebrates 20 Years with Throwback Turntable
by The Audio Beat | July 4, 2011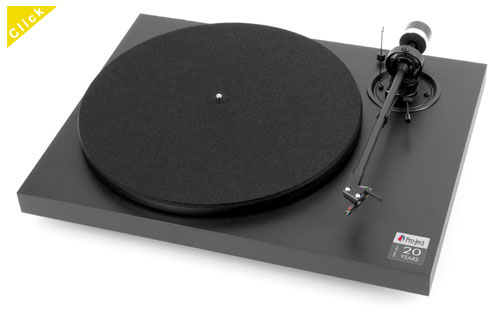 t's no small feat for a company to reach the 20-year mark in its history, especially if that company began manufacturing turntables during the ascendancy of the CD. To celebrate this milestone, Pro-Ject is offering a new turntable that honors its history in analog playback. The Pro-Ject 1 Anniversary (€375) is an homage to the very first Pro-Ject turntable, the P1. The new 'table will be built exactly as the P1 was 20 years ago, except that it will incorporate what Pro-Ject has learned over its two decades in business, including the production of higher-quality parts with tighter tolerances.
According to Pro-Ject head Heinz Lichtenegger, the original P1 was "super simple" but outperformed many established competitors' offerings. "The sound is still fascinating and proof that classic hi-fi products have all-time value," he said. Regarding the 1 Anniversary, Lichtenegger offered, "There are no features but a super-heavy platter, bronze bushings, a Teflon bearing, a hardened-steel spindle, and a tonearm with sapphire bearings, making it sound wonderful -- fast and dynamic. . . . Basically all our turntables still follow these principles."
Pro-Ject will limit the production of its anniversary turntable to 1000 units.