Forward Thinking at a Reasonable Price from Primare
by The Audio Beat | August 15, 2011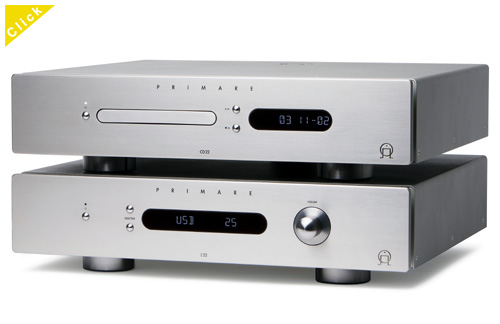 rimare addresses the changing landscape in digital playback with a pair of new affordably priced products.
The CD22 CD player ($1695) features a switchable sample-rate converter (44.1/48/96/192kHz), a single Burr-Brown PCM1792 DAC with active MOSFET transistor, and SMD technology that keeps the signal paths isolated and as short as possible. It also has no capacitors in the signal path. It is housed in Primare's heavy-alloy chassis, designed to provide strength, rigidity, and isolation, while also damping vibrations. The CD22's display is isolated from the audio circuits and is dimmable in four steps. Inputs include USB.
The I22 integrated amp ($1695) outputs 80Wpc and utilizes Primare's proprietary UFPD (Ultra Fast Power Device) technology. Its class-D design makes it efficient without generating excessive heat, and its standby mode only consumes 0.3W. It features two discrete UFPD amplifiers and a preamp section fed by its own dedicated power supply. All signal paths are as short as possible, and all signal controls (source selection, volume and channel-balance trim) are performed in the analog domain. Source selection is via high-quality relays instead of a rotary switch.
An optional retailer-installed DAC board ($595) is available for the I22, allowing not just the connection of an existing CD transport but also the streaming of music files from PC and Mac. The DAC has two different chips -- Analog Devices AD1855 and TI PCM1792A -- and three digital inputs: isochronous USB-B (16-24 bit/44.1-96kHz), optical (16-24 bit/44.1-192kHz), and S/PDIF (16-24 bit/44.1-192kHz).