New Analog-Digital Preamp From Perreaux
by The Audio Beat | June 18, 2012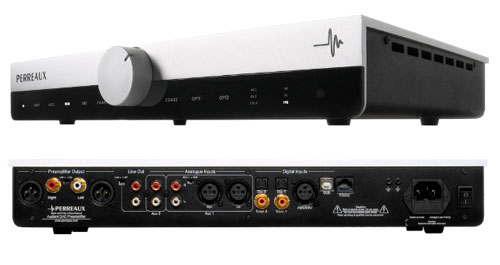 he forward march of the combination DAC-preamp continues with Perreaux's Audiant DP32 ($2895), a fully balanced analog preamplifier with onboard 32-bit/192kHz digital-to-analog converter that features asynchronous USB streaming. The Audiant DP32's DAC is ESS Technology's flagship 32-bit Sabre32 ES9018, which handles the signal to unit's digital inputs: AES/EBU, USB, coaxial and optical. The fully balanced analog preamplifier offers two buffered analog inputs and pairs of analog outputs, each of which accommodates balanced XLR or single-ended RCA connection. The Audiant DP32 also has a selectable bypass mode for integration into any home-theater system.
Perreaux has included some important design features, such as digital reclocking for jitter reduction, discrete shunt regulators to provide clean power, a buffered passive volume control for low noise, and direct-coupled inputs to retain sonic purity.
The attractive DP32 is equipped with a touch-panel interface that's said to be intuitive and thus easy to use, along with a handy display area that indicates the sampling frequency in use.