Pass Labs' Formula for the $20,000 Speaker
by The Audio Beat | December 28, 2009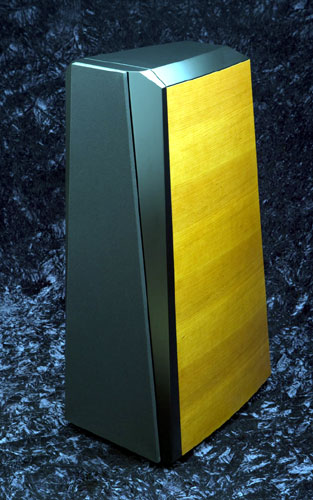 t used to be that $20,000 was the high ground for loudspeaker pricing, representing the no-compromise threshold above which few companies ventured. Nowadays, $20,000 is the highly competitive middle ground where resourcefulness and creativity are absolutely necessary for a speaker to catch listeners' attention.

Into this fray comes the new SR-2 ($18,000 in cherry veneer, $21,000 in madrone or ash), the third speaker from Pass Labs, best known for its amplifiers and preamplifiers. The SR-2 is a floorstanding, three-way, partially active speaker with a compact footprint. It features SEAS drivers, including a 7" midrange and 10 1/4" woofer with Nextel-treated paper cones. 3M developed Nextel as a special coating for the interior surfaces of the Space Shuttle, and SEAS claims "smooth frequency response and low distortion" for its Nextel-coated drivers. All of the SR-2's drivers feature long-excursion diaphragms, low-mass, underhung voice coils and substantial copper Faraday rings in their motor assemblies. Each driver and crossover element is individually inspected and tested at Pass Labs' California facility.

As for the SR-2's sound, Pass Labs proclaims:
The SR-2 spectacularly blends its three drivers into one coherent voice, even at listening positions usually thought to be very near field and too close to the speaker to be optimal. Its highly refined soundstage, deep awareness of micro-detail, and effortless dynamics deliver superb, accurate musical reproduction.
The SR-2 will be on musical display at CES 2010, so look for our reporting on it in our coverage of CES and THE Show.