Low-Cost Power Cords with High-End Features
by The Audio Beat | February 26, 2010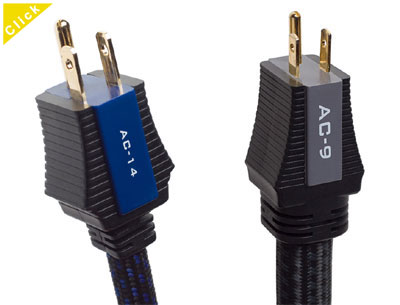 he advanced geometry and large-diameter, oxygen-free conductors of the Pangea Audio AC-9 and AC-14 power cords are features found on top-shelf competing products, but the cords' prices -- $79.99 for the AC-14 and $39.99 for the AC-9, both in two-meter lengths -- are far below most of the competition. The AC-9's 9-gauge diameter allows high-current and high-power delivery ideal for large amplifiers and subwoofers, while the 14-gauge AC-14 is optimized for use with preamplifiers, CD players, DVD players, DACs, and other line-level components. Both feature a multi-gauge geometry and use 99.99%-pure copper conductors for maximum conductivity. Both cords are triple-shielded for superior RFI and EMI rejection and use special two-shot molded connectors as well as 24K-gold-plated contacts. Both cords are said to be highly flexible as well, in order to reduce strain on the component's IEC connector and the AC outlet.
All Pangea Audio products are based on the designs of engineer Jay Victor, who holds 40 patents for cable geometry and connector design and has designed hundreds of audio products for prestigious brands. His background includes 12 years of engineering work on x-ray cables and wire harnesses, proprietary connectors, and scientific test instruments. While all Pangea Audio cable designs are engineered and evaluated using sophisticated test instruments, final decisions are made only after intensive listening tests and comparisons with reference products.
Pangea Audio products are available through authorized dealers and Audio Advisor, the brand's sole online/catalog retailer.