Audiophile-Inspired All-in-One Music Server
by The Audio Beat | December 24, 2010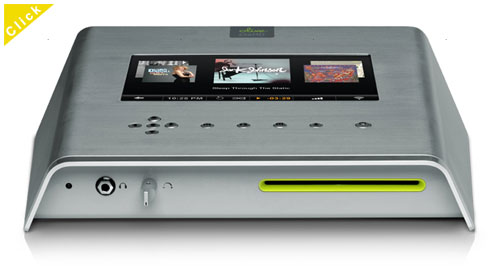 live Media's O6HD ($4999) is a self-contained, connect-and-play digital-music server that features dual-differential DACs, 2TB of storage space, and an integral touch-screen interface. The O6HD's Burr-Brown PCM1792 DACs support 24-bit/192kHz playback. They are implemented along with a temperature-compensated crystal oscillator with less than 10 picoseconds of jitter, a high-performance sample-rate converter, and an output stage featuring "ultra-fast op-amps." A dedicated linear power supply with a custom-built, ultra-low-noise toroidal transformer powers the O6HD's analog section, and the unit has its own integral AC filter as well. For headphone listening, the O6HD has a separate dedicated headphone DAC and amplifier. The O6HD features a host of inputs and outputs, including USB, Ethernet and HDMI. Both single-ended RCA and balanced XLR analog outputs are included.
The unit's angled profile makes room for a top-mounted 10.1" glass-on-glass color touch-screen, which allows for easy navigation of the stored music library. The O6HD has capacity for up to 6000 CDs at full resolution or up to 20,000 high-definition tracks. The unit's hard drive is cushioned in eight layers of noise-canceling padding and its fan-less cooling system eliminates operating noise.
With so much audio-equipment production farmed out to Asia, it is especially surprising that the O6HD is custom-built in small quantities at Olive Media's facilities in downtown San Francisco.