NHT Returns with the Absolute Tower
by The Audio Beat | March 23, 2010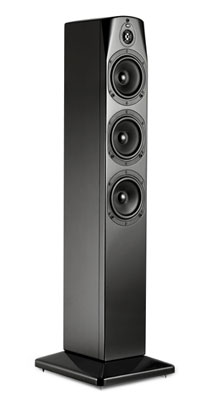 year ago, NHT co-founder and co-owner Chris Byrne announced that it was "time to turn down the lights. NHT is going quiet." Byrne planned to sell his remaining inventory, pay the company's bills, and "then spend time rethinking the future of NHT. One thing that is for sure is that this is not about our love for or commitment to the brand," Byrne wrote. "It isn't about the audio business, either. It's all about the realities of the world and how consumer attitudes are changing, and how we as a brand and an industry can best respond to the need for real invention."

A year later, the lights are back on at NHT. The company has introduced its first new model of the decade. The Absolute Tower is a floorstanding version of NHT's best-selling Absolute Zero minimonitor. The Absolute Tower is a three-way, four-driver acoustic-suspension design that features the Absolute Zero's 1" aluminum-dome tweeter, a 5 1/4" polypropylene-cone midrange, and two 5 1/4" woofers. The speaker's frequency response is rated at 58Hz-20kHz, with impedance at 8 ohms average and 4 ohms minimum. Sensitivity is stated as 86dB. In-room bass response is said to extend to a -6dB point of 43Hz. Like all NHT Classic models, the Absolute Tower features a ten-coat gloss-black finish.

NHT is offering the Absolute Tower as part of a special package. Beginning April 1, the speaker will sell at an introductory price of $495 each. With the purchase of two or more Absolute Towers, you receive a complimentary matching Absolute Center center-channel speaker. This offer is available through NHT's online store as well as its retailers.