A New-Generation Digital Source from Meridian
by The Audio Beat | August 5, 2010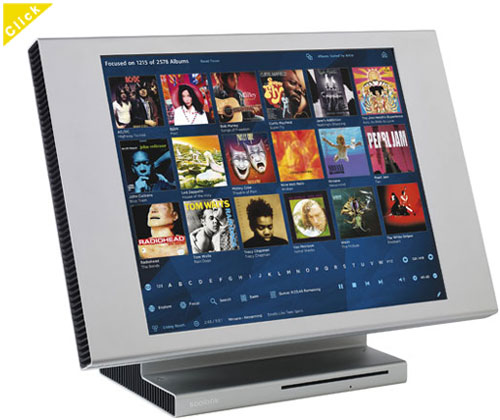 hink of Meridian's new Sooloos Control 15 ($7500) as a CD transport with onboard storage and touchscreen access to your music collection. The Control 15's CD drive can be used to load over 1000 CDs onto the unit's 500GB internal hard drive. A second Control 15 or additional Meridian Sooloos storage can accommodate even larger music collections.
The Control 15's 17" touchscreen provides easy access to the stored music via an intuitive graphic interface. Included are the Sooloos Search and Focus features for finding just the music you're looking for, and the Swim feature for choosing music to suit the mood or occasion.
There are two ways to connect the Control 15: via its S/PDIF digital output to the separate digital-to-analog converter of an existing audio system, and via its SpeakerLink output to a pair of Meridian DSP speakers or a digital music system.
When Internet enabled, the Control 15 serves as an interface to the vast array of Internet radio stations and streamed music from Rhapsody. The unit can also export stored music in MP3 format.