Meridian Explores Computer Audio With New DAC
by The Audio Beat | February 25, 2013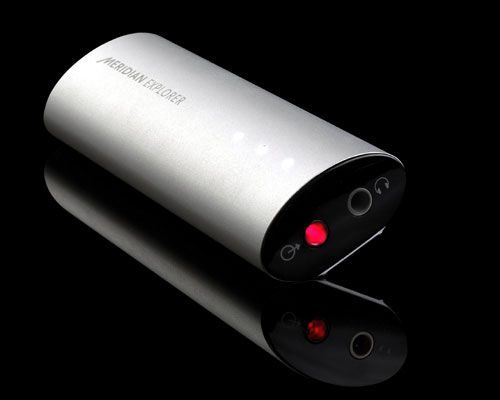 eridian's new Explorer ($299) is an intelligently designed asynchronous USB digital-to-analog converter that is said to be "engineered from the same DNA as Meridian's 800 series Reference products." It converts data at up to 24 bits and 192kHz sample rate natively from Mac, Windows or Linux systems and features separate "low-jitter" crystal oscillators for CD-resolution data. LEDs indicate the sampling rate of incoming data.
The Explorer can drive headphones directly or be used via fixed or variable analog line-level outputs. It boasts of "premium parts," including high-quality filter capacitors, a six-layer PC board and all-metal enclosure. Each Explorer is assembled by hand at Meridian's Cambridge, UK, factory,
© The Audio Beat • Nothing on this site may be reprinted or reused without permission.