"New From Magnepan": The MG1.7
by The Audio Beat | December 30, 2009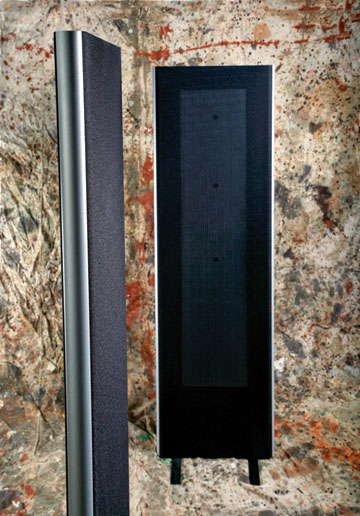 hile "New from Magnepan" has been an oft-used phrase over the past few years, it hasn't been used in the context of a speaker about which two-channel audiophiles would rejoice. That ends with the introduction of the MG1.7 ($1995/pair), whose predecessor, the venerable MG1.6, remained in Magnepan's speaker lineup unchanged for a dozen years -- much longer than the normal product cycle. The MG1.6 was a two-way "quasi-ribbon" speaker, referring its use of flat planar-magnetic drivers for the treble and midrange/bass regions. The MG1.7 is a three-way design featuring a quasi-ribbon planar-magnetic woofer and tweeter, along with a quasi-ribbon super-tweeter that covers the frequency range 10kHz and above. The inclusion of the super-tweeter is said to push the MG1.7's performance "one step closer to the delicacy and detail of Magnepan's true-ribbon design" than a quasi-ribbon tweeter would alone.
As with other Magnepan speakers, the MG1.7 requires a stout amplifier because of its low sensitivity, and in-room placement requires experimentation because of the speaker's dipole radiation pattern.
The MG1.7's styling is departure from that of the MG1.6, with its thin bands of inlaid wood trim. The MG1.7 looks much more contemporary, due to its wraparound aluminum side pieces. The standard wood trim of the MG1.6 is available as an option, as are Magnepan's standard grille-cloth colors: black, charcoal and white.
Magnepan will be demonstrating the MG1.7 at THE Show, along with a full system of Bryston electronics. The Audio Beat will be there to report on the proceedings.