On-the-Go Internet Radio with the Livio Radio Carmen
by The Audio Beat | July 6, 2010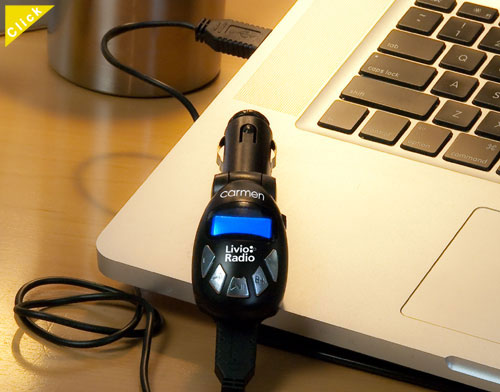 ivio Radio's Carmen ($59.95) is a unique device that gives travelers access to Internet radio in their cars. Compatible with the Mac or PC, Carmen connects to the computer via USB and, using its client software, records and stores content from over 42,000 AM/FM and Internet-only radio stations streamed from around the world. Carmen gets its power from the vehicle's 12-volt socket, and it plays back the stored content through their car's stereo via an open FM channel or an auxiliary input.
Carmen uses the same technology as the DVR, which changed TV watching, to record and store radio content. The unit's client software allows users to browse stations by genre, language, location or keyword, in addition to other common audio files, including music and podcasts. In the vehicle, Carmen's user-friendly interface includes fast-forward, rewind, and skip functions.
"Carmen is all about further expanding Internet radio consumption to the car," Livio Radio's founder and chief operating officer Jake Sigal said. "We designed Carmen with DVR in mind. It gives users access to local stations from across America and around the world -- their music, news and talk radio -- plus genres that they can't find anywhere on AM/FM for plug-and-play listening and enjoyment in any vehicle."