Massive DSP Subwoofer from Legacy Audio
by The Audio Beat | April 19, 2013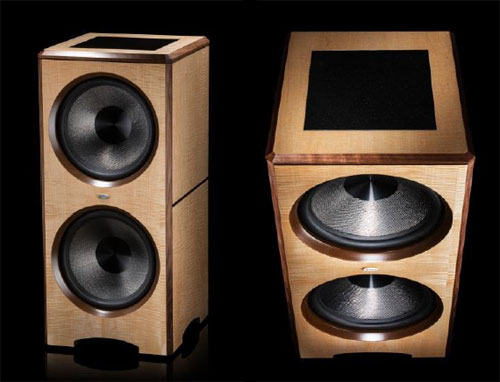 egacy Audio's aptly named Goliath XD subwoofer ($9950) combines a pair of 15", high-excursion, composite-diaphragm drivers with 1000 watts of internal amplification and 32-bit DSP control.
The Goliath XD's drivers feature silver/graphite/Rohacell cones and vented motor structures, and each is powered by a dedicated 500-watt ICEpower amplifier. The sub's DSP controller allows for low-pass crossover settings with slopes ranging from 6dB to 48dB per octave. The algorithm mates the response of the 15" drivers to the enclosure's tuning frequency set by its twin 15" custom-weighted passive radiators. Eight parametric filters can be adapted to tailor the subwoofer to the room in which it will be used, and the DSP's synchronization feature can align up to four subwoofers in time.
The 275-pound Goliath XD extends down to 12Hz and offers 130dB maximum output. "The visceral bass from the Goliath XD rises and falls so quickly in the room that boom and droning are virtually nonexistent, " claims Legacy Audio. The Goliath XD is available in a wide array of finishes.