Jaton's Three CD Players from One
by The Audio Beat | November 15, 2010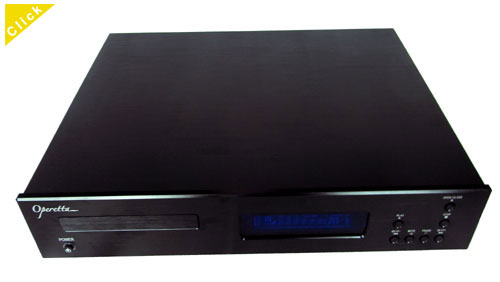 aton has taken a unique path to creating a line of CD players with the new Operetta CD1000 series. The player is available with three different sets of capacitors in its analog section. The CD1000A ($3900) uses Mundorf Supreme Silver/Gold/Oil caps, while the CD1000B ($2900) also uses caps from Mundorf, but the Silver/Oil variation. The CD1000C ($1900) uses WIMA caps in place of the Mundorf.
No matter the version, the Jaton CD player has the same Cirrus Logic CS4392 24-bit/192kHz DACs and Sony transport. The player upsamples to 384kHz and uses a DSP-based error-recovery system.
Jaton will debut the Operetta CD1000 at CES as part of its two-channel audio system that includes the Operetta AP2300AX stereo amplifier ($5500), RC2000P/RC2000S preamp ($1300/$1500 respectively) and REAL A3 floorstanding speakers ($12,000 per pair).
© The Audio Beat • Nothing on this site may be reprinted or reused without permission.