Gryphon Audio's New Loudspeaker "Pinnacle"
by The Audio Beat | January 7, 2013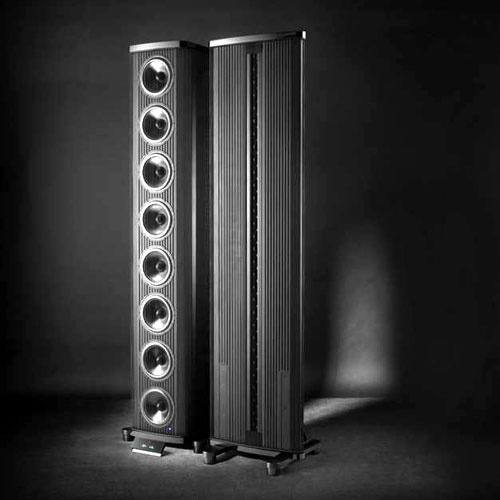 ryphon Audio is one of high-end audio's rare companies, offering a full system of products -- from digital source to loudspeakers. The new Pendragon (€150,000 per pair) is Gryphon's most ambitious speaker yet, each channel comprising a pair of cabinets. Each bass tower has eight 8" woofers that are driven by a custom-designed 1000-watt class-AB amplifier. The matching midrange/treble tower features an open baffle on which a two-meter-long dipole planar-magnetic thin-film ribbon driver covers the range from 200Hz to 18kHz, so no crossover intrudes in this range. A vertical array of four dipole Air Motion Transformer (AMT) supertweeters handles frequencies above 18kHz and reportedly reaches to beyond 32kHz. The extremely wide and even horizontal dispersion of the midrange panel combined with its lack of vertical dispersion is said to create "a large, stable sweet spot with none of the floor and ceiling reflections that muddy the sound of conventional multi-way systems." The AMT array has a +/-1dB switch, allowing for easier integration within various listening spaces.
According to Flemming Rasmussen, Gryphon CEO and the designer of the Pendragon, "We had committed considerable resources over the past decades to solving the many inherent problems of crossover networks, but it has always been in the back of our minds that eliminating a problem altogether is a far more elegant solution. By coming up with a single, broadband drive unit with ideal sound reproduction and mechanical behaviour across more than seven octaves, Gryphon Pendragon eliminates crossover components in the critical mid frequency range, preserving spectral and temporal integrity."
The Pendragon is available in "virtually unlimited custom finish options."