Power and Beauty: Gryphon's Mephisto Solo
by The Audio Beat | February 23, 2012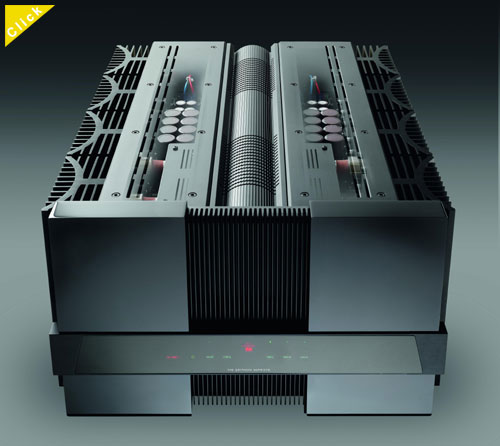 uilt for massive peak current swings into very low impedances without losing its cool": this is how Gryphon Audio Designs bills its new Mephisto Solo mono amplifier ($110,000 per pair), citing the Mephisto Solo's 80 high-current bipolar output transistors and 1,000,000 microFarad capacitor bank. The amplifier delivers 200 watts at 8 ohms and doubles down all the way to a quarter ohm, where it outputs 9000-watt peaks. Each amp weighs nearly 250 pounds and runs in pure class A to its full output.
Gryphon is also quick to point out that the Mephisto Solo is a ground-up mono design, not a stereo amplifier bridged to mono, with its attendant side effects of "doubling distortion, doubling input impedance (impairing the ability to drive low-impedance loads) and cutting damping factor in half (reducing control of cone motion at low frequencies)." In contrast, the Mephisto Solo has "double the output current, half the distortion and double the damping factor" of similar bridged designs.
Like all Gryphon products, the Mephisto Solo makes a strong visual statement, with its clean heatsink profiles and brushed-aluminum chassis.