A New "Reference" from Essential Sound Products
by The Audio Beat | June 21, 2012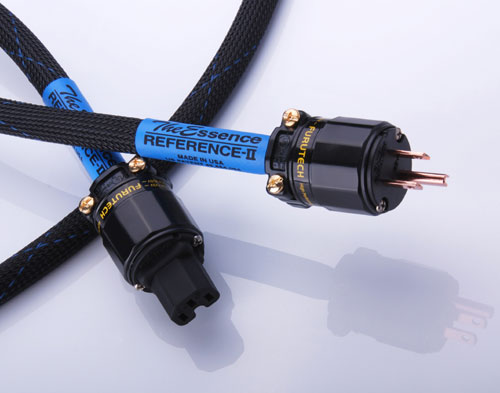 ssential Sound Products (ESP) has been designing and manufacturing high-grade power cords and power distributors for the both the consumer and professional audio industries for more than a decade. The Essence was the company's first and most successful power cord. The company's new The Essence Reference-II ($1999 per two-meter length) is, according to ESP, "the result of taking a fresh look at component selection and the whole termination process." ESP began by exhaustively evaluating plugs and IEC connectors from every major manufacturer. This process led to a new termination process that developed from the company's selection of Furutech plugs and IEC connectors made from high-purity copper, replacing connectors with brass contacts. These connectors match the high-purity copper used for the cord's conductors, creating "a new level of synergy." Michael Griffin, the cord's designer and the head of ESP, offered, "Trying to describe the performance improvements of the Reference-II in words seems inadequate," settling on "exciting -- so faithful and natural sounding."
As with other ESP power cords, there is also a power distributor that features a hard-wired The Essence Reference-II cord. This costs $2999 with a two-meter cord and has eight outlets.
© The Audio Beat • Nothing on this site may be reprinted or reused without permission.