CD-Quality Streaming Audio from Computer or iPod, No Network Required
by The Audio Beat | February 7, 2010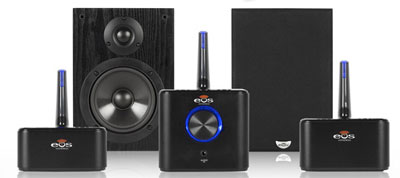 ireless audio without the wireless network: that's the promise of the Eos Converge system, which streams music or radio broadcasts from a computer or iPod at a distance of up to 150 feet. Bandwidth is a full 1.5 mbps, compared to 750 kbps for Bluetooth, allowing streaming at full CD resolution. Setup is said to easy -- "just plug and start playing" -- and the system is remote controllable with a properly equipped iPhone. Because the system broadcasts at 2.4GHz, it won't interfere with an existing wireless network, and multiple Eos systems can be configured with unique IDs, so they won't conflict with each other.
Different transmitters accommodate a computer, iPod or home-audio system as the source, and receivers are available with and without amplifier power, as well as with built-in speakers. Eos also sells a pair of small two-way speakers that are matched to its amplified receiver. Transmitters accept USB or line-level input via a minijack, while receivers have standard RCA output jacks. Up to four receivers can be used with a single transmitter.
The standard transmitter costs $99.95, while the iPod transmitter with built-in speakers is $249.95 and includes a separate receiver with speakers. A non-powered receiver is $99.95, a receiver with class-D amplification for direct connection to speakers is $149.95, and a portable receiver with built-in speakers is $129.95.
All orders are placed through the Eos website. Shipping is free, and there is a 30-day money-back guarantee.