Einstein's New "Little" Phono Stage Promises to be Something "Big"
by The Audio Beat | November 23, 2009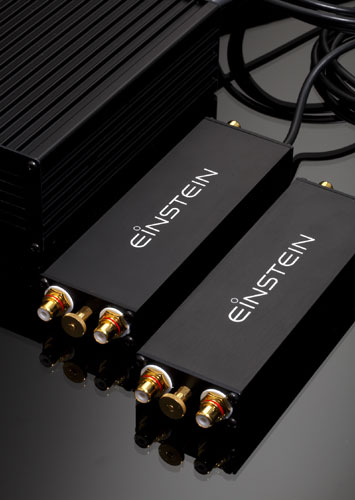 instein Audio Components' unusually named The Turntable's Choice -- as if a turntable has any say in the matter of which phono stage it will be used with -- is a purist phono stage that employs banks of resistors for each channel to produce 68dB of gain. It is the only piece of Einstein electronics that uses no tubes -- until now. The new Little Big Phono ($3895) has three different parts: a pair of small mono modules for each channel and a separate power supply. It is based on the circuit of The Turntable's Choice and also produces 68dB of gain. It is a fully discrete design with no op amps in the signal path, and even with its multiple chassis it is much easier and cheaper to produce than its larger and more expensive sibling.

In the words of Volker Bohlmeier, the president of Einstein, with The Little Big Phono, "You will notice musical details as never heard before, and you will experience a rhythm and timing which lead you to a new interpretation of the song." The Turntable's Choice will remain part of the Einstein product line -- by Volker Bohlmeier's choice, no doubt.
© The Audio Beat • Nothing on this site may be reprinted or reused without permission.