New "Compact Reference Monitor" from B&W
by The Audio Beat | June 17, 2011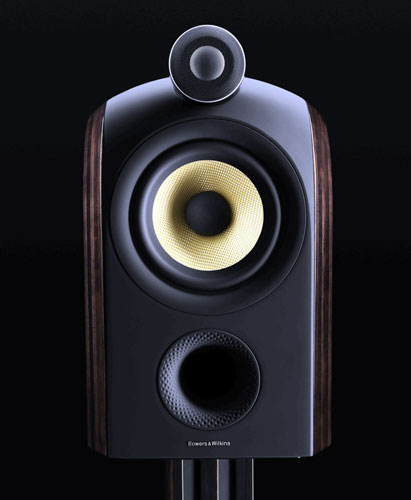 &W's new Prestige Monitor 1, or PM-1 for short ($2800/pair), fills an important gap in the company's product line, becoming, according to B&W, "a new reference standard at the $3000 mark."
The PM-1 features an array of innovations. Chief among them is the speaker's Carbon Braced tweeter. It features an aluminum dome that has been strategically stiffened with a ring of filament-wound carbon fiber. This pushes the breakup frequency of the driver up to 40kHz, beyond the limits of human hearing, and reduces distortion at audible frequencies below 20kHz. As with B&W's 800-series models, the tweeter is completely outside the main enclosure in its own tapered-tube housing.
B&W's Kevlar-cone midrange/woofer uses a Foam Damping Cap in the center. This damps the motion of the former, thereby reducing cone breakup, with a commensurate reduction in overhang. This is said to produce "'slam' without the unwanted bloom of lesser bass drivers."
For the PM-1's "minimalist" crossover, B&W has used oxygen-free copper in the conducting path of the terminals along with Mundorf M-Cap Supreme Oil capacitors, which reduce microphonic effects that can affect overall clarity.
The PM-1's cabinet uses the latest generation of B&W's Matrix interlocking panels, along with the company's curved cabinetry and a mineral-loaded resin baffle. As B&W suggests, "Tap anywhere on the enclosure to prove to yourself how quiet it is."