High-Tech and Aesthetic Design Unite in B&W's New 800 Diamond Series
by The Audio Beat | January 18, 2010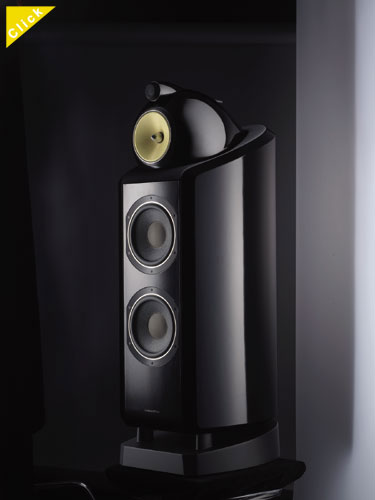 esigned for home use but also prized in the studio, Bowers & Wilkins' famed 800 series has long been a premier loudspeaker line, with the goal of being "a transducer that truly neither adds to nor subtracts from the original signal." The new sixth generation of the 800 series, B&W's first in six years, brings the use of a diamond-dome tweeter to all speakers in the line. The new tweeter is more efficient and displays improved dynamic range over the previous driver, and its new surround material improves dispersion, providing "a more stable stereo image while increasing openness." The 800 Diamond's bass driver uses a dual-neodymium-magnet motor system, which is said to improve the driver's linearity and decrease harmonic distortion. The Kevlar FST midrange driver remains unchanged, and the speakers continue to utilize Nautilus tube loading for the tweeters, along with B&W's Matrix enclosures.
The 800 Diamond ($24,000/pair) is the flagship and the latest incarnation of the speaker used in Abbey Road Studios. Next comes the 802 Diamond (shown right, $15,000/pair), which, like the 800 Diamond, is said to offer improved bass response due to an improved bass-driver voice coil and "bass realignment." The 803 Diamond ($10,000/pair) has a much smaller footprint than the speakers above it and uses three 7" woofers in place of the 802 Diamond's twin 8" drivers. The 804 Diamond ($7500/pair) is the smallest of the floorstanding speakers, while the 805 Diamond ($5000/pair) is a much-requested stand-mounted minimonitor that brings B&W's diamond-tweeter technology down to a previously unreached price level.
There are also two center-channel speakers in the Diamond series: the larger HTM2 Diamond ($5000) and smaller HTM4 Diamond ($2500). A few models have been removed from the previous 800 series, including the 801D and the dedicated rear-channel speakers.
All 800 Diamond speakers are manufactured entirely at B&W's new factory in Worthing, West Sussex, UK, and all are available in three finishes: rosenut, cherrywood and piano-black gloss.