Seven Years in the Making: Bryston's B-135 SST²
by The Audio Beat | April 7, 2012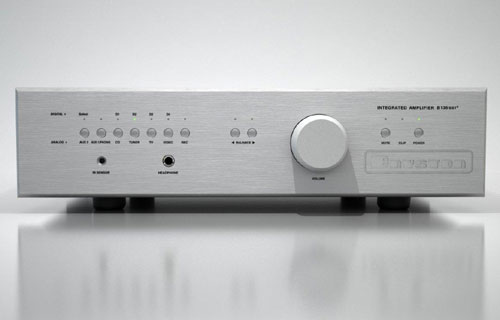 hile it's not related to Bryston's celebration this year of its 50th anniversary, the B-135 SST² integrated amplifier is still special, as it replaces the B-100, which has been available for over seven years, and retains the older unit's $4695 list price.
The 135Wpc B-135 SST² uses Bryston's "most advanced analog circuitry in the preamp section," which can include an optional onboard DAC ($1395) and a moving-magnet phono stage ($600). Keeping digital and analog circuits completely separate was a design goal. The B-135 SST² features a trio of new ultra-low-noise power transformers -- two for analog circuits and one for digital circuits -- and separate ground paths for the digital and analog sections. User niceties include seven line-level inputs, a headphone jack, and, when the DAC module is installed, four digital inputs: two S/PDIF and two TosLink. Bryston's BR2 remote control is an option. The unit's pre-out/main-in connectors allow for separation of the preamp and power-amp sections. Of course, the B-135 SST² comes with Bryston's renowned 20-year warranty.
© The Audio Beat • Nothing on this site may be reprinted or reused without permission.