Active USB Cable from B.M.C.
by The Audio Beat | February 5, 2014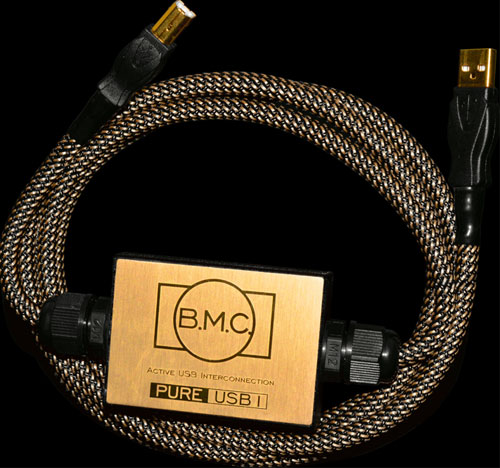 he rise of the computer as a music source has correspondingly given rise to audiophile-grade USB cables. USB was conceived as a data-transmission format, not one for high-fidelity music, so cable and hardware manufacturers have been busy devising ways of minimizing transmission loss and noise, improving USB's sonic character in the process.
B.M.C.'s method with the PureUSB1 ($280 for two-meter length, $420 for five-meter length) is to provide an active circuit. Within the metal housing along the cable's length is a circuit that "restores and reshapes the digital USB signal just before entering the DAC."
The PureUSB1 is also less length sensitive than standard USB cables. According to B.M.C., a five-meter PureUSB1 sounds virtually identical to a two-meter length of the same cable.