BMC Comes to North America
by The Audio Beat | March 11, 2011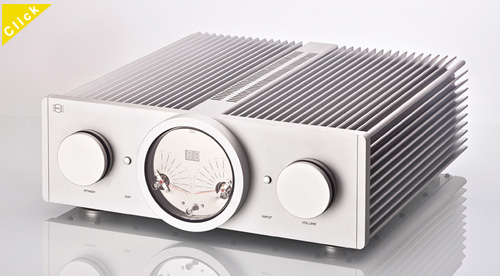 audio Imports distributes a number of first-class product lines, including a few from makers in Germany. Add to these the name Balanced Music Concept (BMC), whose products include amplifiers and source components. BMC components benefit from modular design, fully balanced circuits, short signal paths, and "unconventional proprietary technologies." Company founders and managing partners Bernd Hugo and Carlos Candeias are electrical engineers with experience in high-end-audio design and manufacturing, having previously founded successful audio companies.
The BMC product line includes mono and stereo power amplifiers, an integrated amp, a belt-drive CD player/transport, a preamp/digital-to-analog converter, and a moving-coil phono stage, each with bold visual features, such sleek chassis as large round meters and knobs. The C1 (shown, $7990) is a 200Wpc integrated amp that uses a 2kW ring-core transformer. The S1 stereo amp ($7990) and M1 monoblocks ($15,580/pair) use the same hefty transformer and offer the same output power. The DAC1 ($5790) is a combined preamp and digital-to-analog converter with many forward-thinking features, including BMC's Superlink connection, which uses four separate cables for digital connection to the BDCD1 belt-drive CD player ($5790). The MCCl no-feedback phono stage ($3890) has selectable gain levels and adds a Neumann-corrected RIAA curve.
Aaudio touts the refinement and value that BMC products offer: "BMC's modular design strategy, intelligent planning and decades of executive experience help keep its retail prices startlingly low for the level and sophistication of its products."