Blue Circle Covers Digital and Analog with Three New Products
by The Audio Beat | November 30, 2009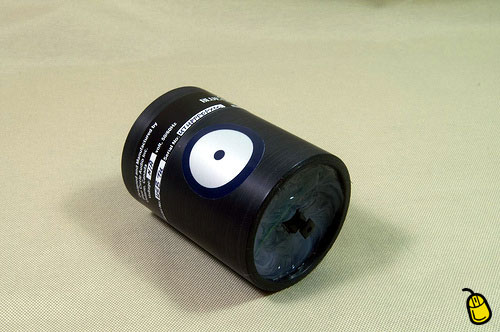 n the time it takes some audio companies to decide on the finish options for an upcoming speaker or CD player, Gilbert Yeung of Blue Circle Audio has already designed and built his latest product and begun working on some other project. The most recent items to emerge from Gilbert's ever-restless mind are the 24/94 USB Tunnel (shown right) and a pair of modifications for the venerable Technics SL-1200 Mk2, Mk3, Mk5 and M5G turntables that push their performance to higher audiophile ground.
The USB Tunnel 24/96 gives away its functionality with its name. It converts the digital output from a computer's USB port to AES/EBU and S/PDIF digital formats suitable for input to a digital-to-analog converter at up to 24-bit/96kHz resolution. The USB Tunnel 24/96 is truly a plug-and-play device. The computer automatically recognizes it as the interface for music to the external DAC and handles volume control. Pricing depends on the output options: $399 for AES/EBU and coaxial, $419 if you want to add TosLink. Gilbert points out that the USB Tunnel 24/96 "is not a replacement for the USB Thingee," which is his popular CD-resolution-only USB digital-to-analog converter. It lacks the ability to convert the digital signal into analog.
On the other end of the audio spectrum, Gilbert experimented with modifications to the ever-popular Technics SL-1200-series turntables and has decided to offer two of them for sale to consumers. The Level 1 upgrade ($495) involves removing the transformer and power-supply circuit board from the turntable and mounting them in a separate chassis, eliminating the vibration generated by the transformer along with it. He then installs 90,000uF of DC filtering capacitance in the free space, increasing it by nearly 200 times. This stabilizes the power supply and increases speed stability.
The Level 2 upgrade ($950-$1295 depending on options and chassis) includes the Level 1 modifications and adds a battery power supply for the turntable, which offers absolute speed stability and isolation from power-line inconsistencies. Gilbert uses 24 AA Ni-MH 2500mAh batteries that will keep the 'table running for more than ten hours when fully charged. He designed a special charger that will always keep the batteries topped off, but it will never overcharge them. It can also charge the batteries while the turntable is running from AC power. There is a switch for choosing between AC and battery power. An optional front-mounted LCD meter allows monitoring of the batteries' power.
The base of potential customers for both the 24/96 USB Tunnel and Technics modifications is huge, but it's innate curiosity, not commercial potential, that drove Gilbert to experiment and create them.