Feature-Rich, Programmable Turntable Motor/Controller
by The Audio Beat | March 21, 2016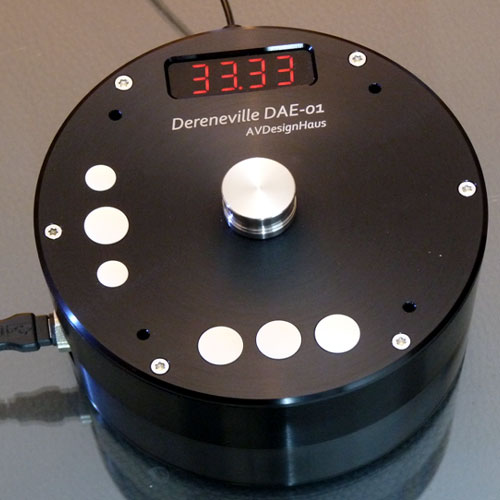 urther proving that hi-fi is about well-executed specialization, the AVDesignHaus Dereneville DAE-01 ($5500) is an aftermarket DC turntable motor and speed controller that adds beneficial features to any turntable using an outboard motor. These include the more common 78rpm speed along with one that's not common: 16.66rpm, which the maker touts as both a playback speed (for old records cut at this speed) and a slower option for changing records at other speeds while keeping the turntable platter spinning. Setting speed based on platter weight is also a feature and unique to the DAE-01.
All speeds can be set in various steps (1.0 0.1, 0.01 and 0.001). Each speed setting is stored in the unit's onboard memory, which supports three independent data sets, so one DAE-01 can be used with multiple different turntables. And when 33.33 is set, the DAE-01 calculates all other speeds as well. The DAE-01 also allows time-based settings, so, for instance, you can run your turntable for a few minutes each week to ensure saturation of the bearing automatically. It can also track the amount of time the turntable has been in use, for determining belt and cartridge wear.
The Dereneville DAE-01 uses a high-grade Pabst synchronous motor, and its housing is CNC machined from aluminum billet. Its pulley is suitable for belt, string or tape drive of the platter. All drive parameters are controlled via recessed push buttons on top of the drive unit, but a USB connection also allows computer programming of the DAE-01's many parameters.