CARMA v.4: A Free Download From Audionet
by The Audio Beat | July 26, 2013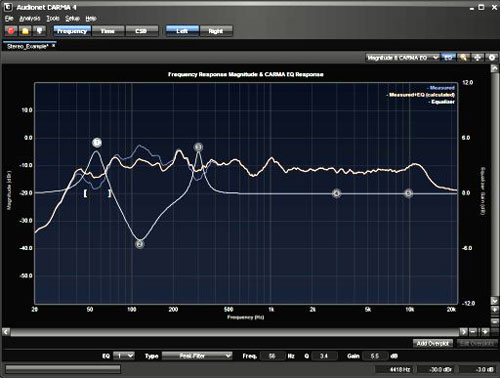 erman electronics and cable manufacturer Audionet has released the fourth version of its CARMA room-analysis application for Mac and Windows environments, making it available for free download via its website. With CARMA v.4, users can identify acoustic conditions in listening rooms and simulate measures to correct issues. It also provides an interface for Audionet's DNx network-capable products.
CARMA v.4's measurement capabilities include impulse response (linear and logarithmic), step response, frequency response (magnitude and phase), group delay and cumulative spectral decay (waterfall and sonogram). Built-in tools include virtual adjustment of subwoofer distance, a signal generator and real-time spectrum analyzer, comparison of different measurements, the ability to correct microphone and soundcard characteristics, and the ability to save and load measurements, overplots and equalizer settings.
System requirements are Java Runtime Environment v.6 or higher, Windows 98/2000/2003/XP/Vista/Windows 7/Windows 8, or Mac OS X version 10.6 or higher. You will also need a microphone for measurements. An external microphone preamplifier is recommended.
To download CARMA v.4, follow this link.