Audio Research's New Reference SE Amplifiers
by The Audio Beat | March 10, 2014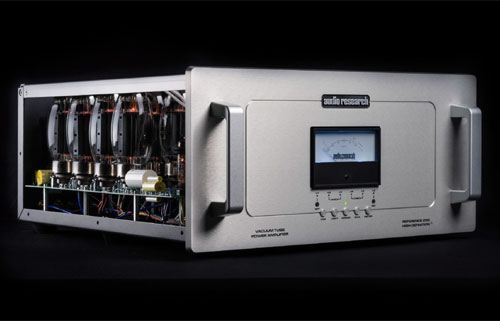 iting the influence of their GS150 stereo amplifier, which uses KT150 output tubes, Audio Research has redesigned its Reference 75, Reference 150 and Reference 250 amplifiers, replacing their KT120 tubes with KT150s. However, the changes to the amps only begin here. Audio Research also includes "substantial performance upgrades. . . to coincide with the changeover to the KT150." These include new active and passive parts that are said to "result in dramatic sonic improvements" along with physical changes to accommodate the larger output tubes. According to Audio Research, "Simply put, [the new amps] are better in every way: purity and lack of grain, resolution, micro- and macrodynamics, separation and instrumental focus, phase and time coherence, and greatly improved bass weight, authority and control."
Quoted specs for the amps have not changed. "Although we could change some of the operating voltages and get higher rated power output," says Dave Gordon of Audio Research, "we are going the conservative route, which we think will provide greater reliability and tube life. We expect owners to get 3000 hours out of these tubes, about 50% longer than KT120-equipped amps."
The prices of the new SE amps are:
Reference 75 SE, $10,000
Reference 150 SE, $15,000
Reference 250 SE, $17,000 each
Reference 75, 150, and 250 amplifiers can be upgraded to include all SE enhancements. The cost is as follows (including the KT150 tubes and a one-year warranty):
Reference 75, $2500
Reference 150, $5000
Reference 250, $4500 each
Upgrades for owners in the US and Canada will be performed at the Audio Research factory, while customers outside North America should contact their distributors to schedule upgrades. Audio Research is prepared to begin updating existing amplifiers immediately.