Audio Research's Best-Ever Preamp is Cause for Celebration
by The Audio Beat | April 29, 2010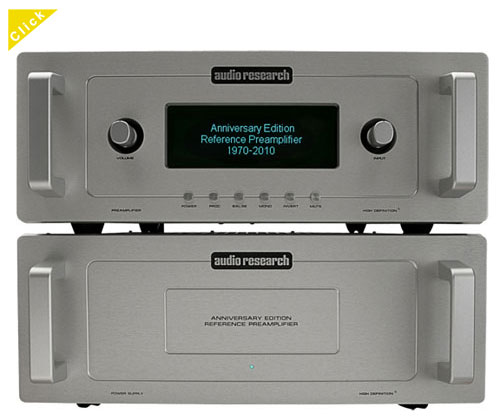 hen Audio Research was founded in April 1970, it was the sole US manufacturer of vacuum-tube preamplifiers and power amplifiers. To celebrate its 40 years designing and manufacturing audio electronics, the company has announced the latest in its long, distinguished line of preamplifiers. The two-chassis Reference Anniversary ($24,995) is said to be "a product that combines the best of our knowledge and experience gained through the decades" and "so special in its design, so groundbreaking in its performance, as to be regarded appropriately as a true 'Anniversary Edition.'"
The Reference Anniversary's all-tube, class-A, triode audio circuit uses no feedback. The dual-mono gain stage has eight 6H30 tubes -– four per channel. The separate power supply is immensely overbuilt, "ensuring unrivalled dynamic headroom." It features twice the power-supply energy storage as that of previous Audio Research Reference preamps. There are separate low- and high-voltage transformers and separate vacuum-tube regulation (6550C and 6H30 tubes) for each channel. Multiple stages of electronic regulation are used. Separate umbilicals for each channel attach the power supply to the audio chassis. All critical components were designed and manufactured solely for use by Audio Research.
The front-panel layout is identical to that of the Reference 5, with knobs for volume and input on either side of a vacuum-fluorescent display. Six small aluminum buttons provide control functions, which are duplicated on the Reference Anniversary's remote control. Inputs and outputs are typical of recent Audio Research preamps: seven balanced/single-ended inputs and two pairs of balanced/single-ended main outputs along with a monitor (record) output. When the Reference Anniversary is turned on, the vacuum-fluorescent display will read "Anniversary Edition Reference Preamplifier 1970-1971" and begin to count up, year by year, until it reads "1970-2010." Silver handles are standard on silver units, but all-black units are also available. For optimal sonics and beauty, the top covers of both chassis are smoked acrylic. Black metal covers are also available at no additional cost.
The Reference Anniversary will have its own website -- www.astound-me.com -- that will allow a 360º view front and back and a 180º view above.
The Reference Anniversary will be available for only one year, Audio Research's 40th. At this time in 2011, production will cease.