Audio Research Introduces the "Definition Series" with the DSi200 Integrated Amp
by The Audio Beat | October 1, 2009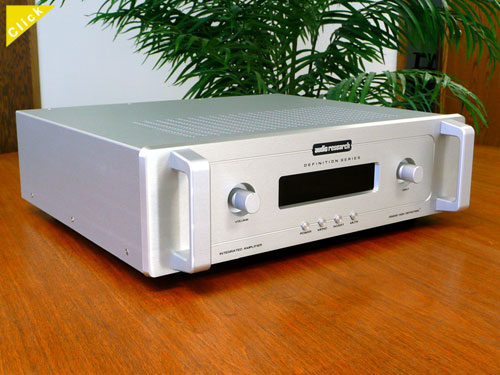 udio Research Corporation (ARC) has reserved its Reference line for the very best tubed products it can make. For the new DSi200 integrated amp ($5995), the first product in the company's Definition Series, ARC takes a unique approach to "hybrid" electronics design, utilizing a scalable, highly regulated, linear analog power supply along with with a "green" switching-MOSFET output stage for highly efficient power conversion (>90%) and low power consumption (38 watts at idle). The DSi200 is a compact and cool-running integrated amp rated at 200Wpc continuous into 8 ohms, with 400Wpc peak output.

The DSi200 offers three sets of single-ended inputs and two sets of balanced inputs. The single-ended AUX input can be used as a normal line-level input or converted into a home-theater pass-through. The preamplifier section of the DSi200 is passive, so the preamp and amplifier sections cannot be separated. The DSi200 will be available with a black front panel, black handles and knobs, but the chassis and wraparound cover will only be available in silver. All-silver finish as shown is also an option.

ARC promises big things for the DSi200.
Connect the DSi200 to any speaker you have on hand and prepare to be amazed by how fluently this amplifier conveys the music within a highly articulated soundstage. It is rare to hear both liquidity and speed at this level from a single component, but the DSi200 has them both. Resolution is exceptional, but the presentation is so relaxed and natural because electronic artifacts are absent and the grain structure is so fine.
We heard this integrated amp at the Audio Research factory and can confirm its fast, liquid sound. It uses no tubes, and has no obvious tubelike character, but its punchiness and natural rendering of musical detail are a unique combination no matter the technology.