Audio Research's DAC8 Promises True High-Resolution Computer Audio
by The Audio Beat | July 16, 2010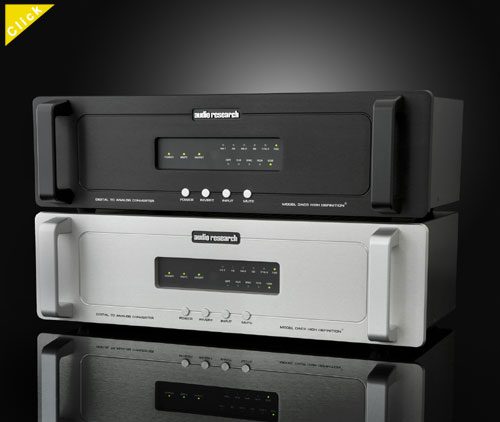 udio Research's DAC8 USB digital-to-analog converter ($4995) addresses the goal of high-resolution computer audio with both hardware and software solutions.
The DAC 8 incorporates USB 2.0 HS (High Speed), which has 480Mbps throughput instead of the USB 2.0 FS (Full Speed) 12Mbps specification. Thus, the DAC8 is capable of handling higher-resolution digital data -- up to 24 bits and 192kHz sampling frequency. The DAC8 is a fully balanced, zero-feedback, solid-state design utilizing a direct-coupled FET output stage with seven stages of power-supply regulation. Each channel has dual 24-bit digital-to-analog converters running in mono in order to lower the noise floor and increase dynamic range. Dual master oscillators ensure compatibility with all six sampling rates in popular use: 44.1, 48, 88.2, 96, 176.4 and 192kHz. All inputs are galvanically isolated from the source to reduce noise and jitter, and each channel of the DAC8 uses a true direct-coupled differential amplifier with a bandwidth in excess of 90kHz.
Because the Windows and Mac operating systems do not adequately support sample rates over 96kHz, Audio Research developed its own ASIO drivers for the DAC8. These allow handling musical data at their native sample rate and ensure bit-perfect, low-jitter data transfer from the computer.
In addition to its USB 2.0 HS input, the DAC8 includes standard RCA, BNC and TosLink S/PDIF inputs, along with an XLR AES/EBU input. The unit's front-panel display solves the mystery of the incoming data's sampling frequency, indicating this via a series of LEDs.