ADL Does Personal Listening
by The Audio Beat | May 21, 2011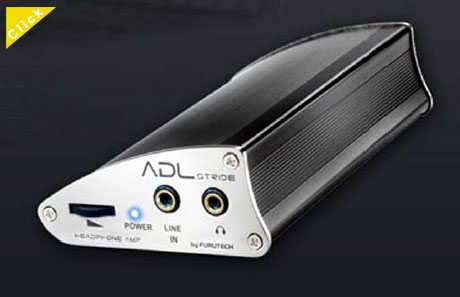 lpha Design Labs (ADL) is a division of Japanese cable, connector and accessory manufacturer Furutech. It specializes in category-bending products with unusual feature sets. The latest ADL products are the Stride (right, $350) and Cruise ($475) portable headphone amplifiers. Both feature a single line-level analog input and a 24-bit/96kHz USB digital input, allowing for connection to personal-listening devices and computers. Both are portable, relying on a 3.7V 940mAh Li-ion battery for power, and small enough to fit in your hand. Both can charge when connected via their USB ports, although AC adapters are included. The primary difference between them is their casing. The Stride features a color-coated aluminum outer chassis, while the Cruise's chassis is high-tech-looking carbon fiber. Both are completely nonmagnetic.
As a companion to the Stride and Cruise, ADL has created the iDevice iD35SP 3.5mm-to-3.5mm cable with silver-plated oxygen-free-copper conductors for minimal transmission loss and 24k gold-plated connectors. Prices range from $59 for a 0.6-meter length to $141 for a 5-meter length.
© The Audio Beat • Nothing on this site may be reprinted or reused without permission.