Analog Audio and The Audio Beat "Firstgroove" Listening Events Resume, Come to the RMAF
by Marc Mickelson | September 13, 2012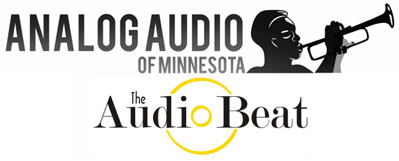 fter a summer break, Analog Audio, located in a suburb of Minneapolis, MN, will resume hosting Firstgroove listening events beginning September 29. These feature newly released LPs and test pressings played a side at a time. The titles for September 28 are:
Rachmaninoff: Symphonic Dances; Vocalise [Reference Recordings]
Keb' Mo' [Mobile Fidelity]
Pink Floyd : The Wall, Immersion box set
The Nat King Cole Story [Analog Productions]
Herbie Hancock: Inventions & Dimensions [Music Matters]
Soundstagedirect.com will provide a gift certificate for one lucky attendee.
The system on which these new releases will be played is equally worth hearing. A Luxman M-600A stereo amplifier ($9000) drives Vivid B1 loudspeakers ($15,000/pair). The analog source is a Brinkmann Bardo turntable ($7990) with optional glass platter and record clamp ($1500 for both), a Bardo power-supply upgrade ($1500), Brinkmann's 9.6 tonearm ($4000) and an EMT Ti cartridge ($4300). The digital section consists of an Audio Aero La Fontaine music center ($25,000). Vitus Audio's RP-101 phono stage ($12,750) connects to a Vitus Audio RL-101 line stage ($11,250). All equipment rests on Harmonic Resolution Systems M3X isolation platforms ($2095-$3050 depending on size) and an SXR rack (from $3150 depending on size). All cables are from Synergistic Research.
Firstgroove events will also be held at the upcoming Rocky Mountain Audio Fest, October 12-14. The days and times are yet to be determined, but the place is set: room 477. Check the show guide for further details.
If you'd like to attend any of the events held near Minneapolis, you can sign up on Analog Audio's website.