THE Show Newport Beach 2014 • Hot Product
The Polymer Audio MKS-X ($60,000/pair) has a backstory that's as dense as its cabinet. Its front baffle is machined from a material five times more stiff and well damped than aircraft-grade aluminum (and requiring 16 hours of milling on a CNC lathe), while its cabinet material is a mixture of alloys and sourced from a military contractor. Such heroic materials produce "the world's most inert cabinet," according to the company, "to push resonances beyond the ability of instruments to measure them." The MKS-X's driver complement is just as intriguing, featuring both a pure-diamond tweeter and midrange -- together using twelve carats of synthetic diamond. Silver internal wiring, silver-wire inductors and cotton damping materials are also used because, the company feels, they are simply the best available for the application.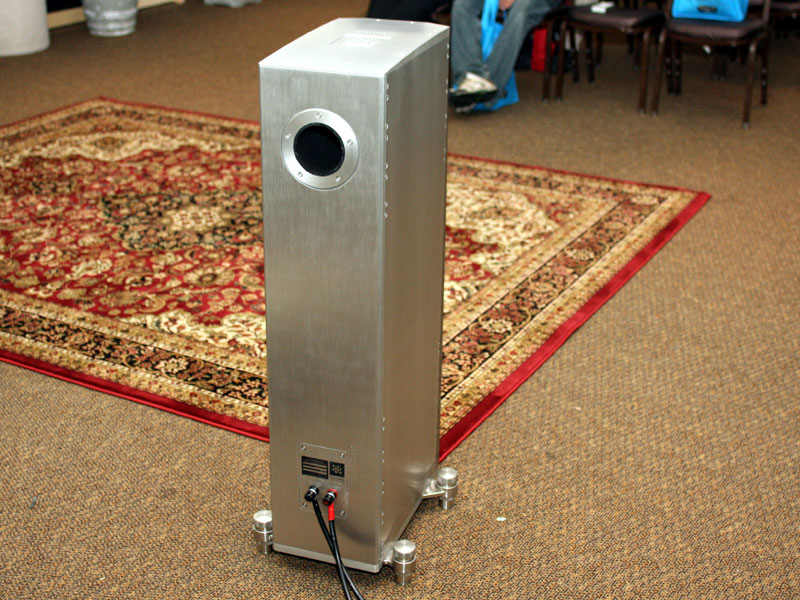 The MKS-X weighs 400 pounds, due to all of its high-tech, inert materials and machined stainless-steel outrigger base, but it's not very tall -- about 40" or so.
Partnered with FM Acoustics electronics, the MKS-X sounded highly detailed, direct and composed, although somewhat thick in the bass, perhaps due to the room, the rest of the system, or something else. No matter -- this is a company on a clear mission and with the MKS-X it has produced an unambiguous expression of it. We look forward to hearing more.