THE Show Newport Beach 2014 • Hot Product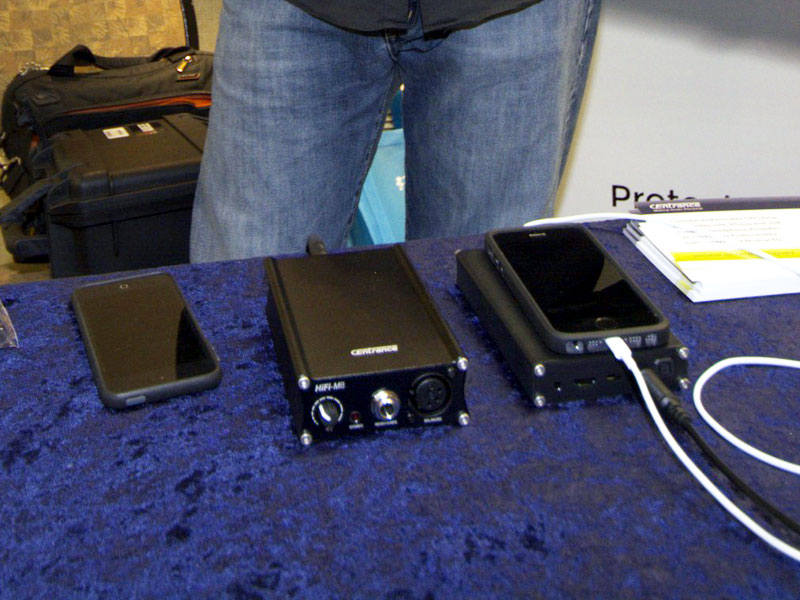 cEntrance, which makes the very popular HiFi-M8 (pronounced "hi-fi mate"), showed a prototype of a new downsized "mate" dubbed the Mini-M8 (right, underneath iPhone). Like its larger sibling, it bypasses the iPhone's DAC to provide a much higher-quality signal and has a USB input to accept and decode 24-bit/192kHz data. The Mini-8 sheds a good third of the size of the larger DAC/amp and appears quite a bit lighter, although the prototype was in a lighter case, while production models will be metal. The loss of amplifier size will not be a problem for most users, who will use the Mini-M8 almost exclusively with in-ear monitors. However, the new smaller unit seemed to have more than ample power to drive a set of Audeze headphones that were on hand, so this looks a real winner for use on public transportation.
The Mini-M8 will be ready to ship in late summer and will cost $599. There was also a prototype of a unit called the Glove Audio A1 (not shown), a DAC-and-amplifier that fits like a glove around the Askell & Kern players. The new unit will be ready to ship in about a month and will also cost $599.
© The Audio Beat • Nothing on this site may be reprinted or reused without permission.