National Audio Show 2012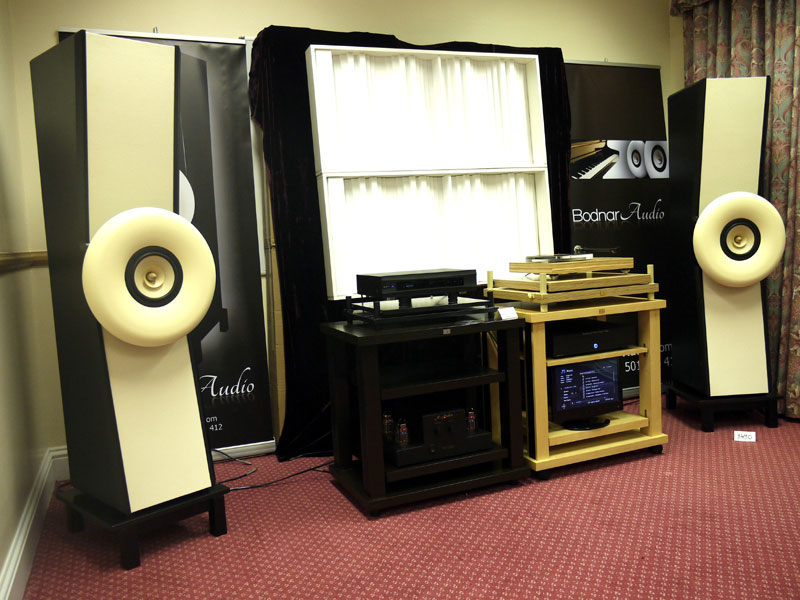 Horn speakers are big, right? And ugly. And if they're not ugly, then they're really expensive. Isn't that right? Well, if it is, then obviously nobody bothered to tell Bodnar Audio! Hailing from Katowice in Poland, the Sandglass Fantasy (and no, we have no idea what the significance of the name is, other than the fact that "Fantasy" refers to the incredible range of finish options available) is a single-driver, folded-horn loudspeaker. Its cabinet is tall (63"), narrow and elegant, the Sonido driver mounted centrally in its own contoured, circular baffle, nestled in the concave front face. The long, concertina horn vents upwards and the width of the cabinet varies according to the diameter of the single driver, with both 6" and 8" versions being offered, the latter preferred in larger rooms. Efficiency is 95dB with a flat 8-ohm load, making the speaker compatible with all but the lowest-powered amplifiers. The black side panes and white driver baffle contrast with a range of 11 different colored leathers that can be specified for the front panel, with custom combinations also available to order. An all-piano gloss cabinet is also available at a higher price. Ah, yes, the price: that would be £3490 -- per pair!
Of course, that would also be meaningless if the sound quality wasn't up to scratch, but the Sandglass Fantasy doesn't disappoint, its musical performance being just as impressive as its visual presence and elegance. Driven by a system built around a Ukrainian N-Audio tube amplifier (a unit with no CE approval, so, sadly, not available in the EU) and playing a range of high-res and FLAC files from a laptop via the USB input of an Oppo BDP-95, the sound was quick, colorful, immediate and full of texture and presence -- presence that was due in no small part to the impressive speed, weight and integration of the bass output. The company offers no figures for bandwidth, but the Sandglass Fantasy has more than enough low-frequency extension to produce satisfying musical scale and impact. It also seemed refreshingly free of honky or nasal colorations, all of which taken together makes that price look incredibly attractive.