Yazoo • Upstairs at Eric's
Warner Bros./Mobile Fidelity MOFI 1-020
Single LP
1982/2012
| | | | | | | |
| --- | --- | --- | --- | --- | --- | --- |
| Music | | | | | | |
| Sound | | | | | | |
by Eric Hetherington | September 26, 2012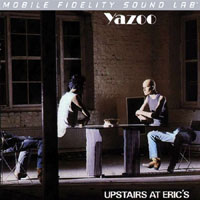 etween leaving Depeche Mode in 1981 and starting Erasure with Andy Bell in 1986, Vince Clarke joined with Allison Moyet to form Yazoo. This was shortened to Yaz in the United States because of legal action from an American record label already using Yazoo in its name. Clarke and Moyet produced two albums, Upstairs at Eric's (1982) and You and Me Both (1983); a live album, Reconnected Live (2010), was recorded 25 years later. Yazoo continued the pop sensibilities of Clarke's contributions to Depeche Mode ("Just Can't Get Enough," "New Life") and married them to Moyet's soulful, bluesy vocals. The resulting sound was fresh among early-'80s synth-pop artists and a harbinger for today's pop music. Moyet's vocals have more in common with Aretha Franklin than the deadpan delivery of other synth-pop acts like Depeche Mode or Gary Numan. The vocal delivery for many of these artists seems like an attempt to make the voice just one more non-natural sound -- albeit one conveying linguistic meaning; there is never a doubt about the emotion and humanity behind Moyet's vocals. It is hard to imagine contemporary dance-pop artists like La Roux or Lady Gaga existing without Yaz's influence.
Clarke initially wondered if record labels would pass over the demo recordings he had made with Moyet, in part because there was no blueprint to follow for the kind of music they were making. That exploratory nature comes through in the music on their debut album. There are several straight-ahead pop songs ("Don't Go," "Bad Connection") played on synthesizers rather than traditional instruments and some more experimental pieces ("I Before e Except After c," "In My Room"). Listening today, the latter are less successful because they now sound not experimental enough. The odd, voiceover vocals of "I Before e except after c," for example, are easily dated and sound like someone practicing recording techniques. The more direct pop songs, such as "Don't Go," "Situation," and "Bring Your Love Down," are more successful, and I continue to hear them played at dance clubs even now -- not as golden oldies but mixed in flawlessly with contemporary songs.
As with Clarke's later writing for Erasure, the use of synthesizers and electronics in Yaz's recordings is an artistic choice. Especially in the early '80s, electronic pop was criticized as not requiring musical talent and relying on machines over the skill and musicianship of the artist (working musicians also feared synthesizers could put them out of work). Yaz's songs stand as evidence against such criticism. They do not rely on electronics for their success or composition, but instead have a backbone of traditional songwriting. The songs could succeed using more traditional instruments, as can be heard for many of Clarke's later compositions on the acoustic Erasure album, On The Road to Nashville.
The marriage between electronic music and blues- or soul-influenced vocals has become the norm in pop music, but Upstairs at Eric's is possibly the first album to succeed in this vein. There are certainly electronic pop records from before 1982 that are artistically successful, such as Kraftwerk's Trans-Europe Express (1977) or even Depeche Mode's Speak and Spell (1981), for which Clarke wrote all but one song. These earlier successes, however, do not rely on powerful female vocals like Moyet achieves on Upstairs at Eric's. In terms of musical legacy, contemporary songs like Lady Gaga's "Born this Way" or "Bad Romance," La Roux's "Bulletproof" or Madonna in the 2000s all appear influenced by Yaz's '80s output.
Mobile Fidelity's Silver Label pressing of Upstairs at Eric's was mastered from the original tapes using their Gain 2 system to bring out the best in these recordings. Moyet's vocals have more breath behind them and the soundstage expands across my listening room. My original US pressing has noticeably more surface noise, less dynamic range (faltering both in high frequencies and bass definition) and feels more closed in. In 2008, Yaz released In Your Room, a comprehensive digital retrospective composed of three CDs and a DVD that contains both videos and 5.1 surround mixes of the original albums. I have not heard this set to comment on its sound, but it seems a reasonable alternative for those without turntables or who favor surround sound.
Original vinyl copies of Upstairs at Eric's are available for slightly less than you'd pay for this new pressing, but the improved sound and hardly noticeable price difference make this MoFi release the vinyl edition to get. I hope to see You and Me Both in the Silver Label queue soon.