Willie Nelson • Red Headed Stranger
Columbia/Impex Records KC 33482/IMP 6003
Single 180-gram LP
1975/2011
| | | | | | | |
| --- | --- | --- | --- | --- | --- | --- |
| Music | | | | | | |
| Sound | | | | | | |
by Dennis Davis | May 23, 2011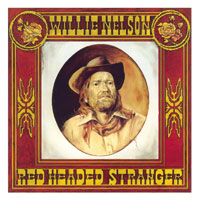 ost audiophiles know Willie Nelson from his 1978 album Stardust, because of its "super disk" status. But Stardust was the culmination of a string of records of superb musical quality that Nelson recorded throughout the 1970s. I'll take any one of a handful of more country-infused albums he recorded earlier in the decade over the pop standards on Stardust, excellent as they are.
Impex Records has made that task a little easier by remastering a superb-sounding Red Headed Stranger. Unlike Nelson's two prior albums -- Shotgun Willie and Phases and Stages, both masterpieces -- Red Headed Stranger is a bit odder and harder to digest, and it requires closer attention. It's a concept album, lean and spare, with Willie backed by a septet of musicians, though mostly guitar and mandolin, and often a single instrument at a time. It tells the story of a preacher whose obsessive love for his wandering wife drives him to murder her and her lover in a bar. He then roams the West, stringing her pony along behind his stallion, eventually gunning down a woman who pays too much attention to the pony, on which the preacher now focuses his obsession. It's more about atmosphere than narrative, however, and shares some of the story line and mood of Wim Wenders' wonderful movie Paris, Texas, with its similar-in-feeling Ry Cooder score.
This is real country music, Nelson's first album for Columbia, and the LP that brought him wider public notice. Captured at the now-defunct Autumn Sound Studios in Garland, Texas, by engineer Phil York, the album's sound is immediate, and the instruments have body and some sense of room ambience.
This LP sold tons of copies, and they are plentiful in the second-hand market. This new reissue from Impex Records (the same folks who made Cisco Records so special) easily trumps the original issue with much fuller sound. I could listen to this record just for the luscious guitar work, but that combined with wonderful writing and singing makes it essential on a number of levels. My one caveat, and its really not a problem, is that you need to dial in the volume just right to enjoy the best this record has to offer. Too loud and Willie's voice, which should sound ready to crack, is shrill. But get it just right and his lament of lost opportunity is overwhelming.